My eyes lit up when my friend Pamela Salzman shared this grain-free bread just in time for Passover! It looked far too good to be true, but also too cool not to try. Let me tell you—I made this recipe yesterday and was completely blown away. One taste and it had me thinking: This is what we've been missing every Passover, one of the biggest festivals in the Jewish calendar!
For the record, my family adopted a gluten and grain-free lifestyle more than a decade ago. I even made the case for a year-round Passover diet in this piece, where I talk grain-free eating. So, of course, this bread isn't only for Passover. Make it any time of the year if you're avoiding gluten and grains.
Something else I love about this recipe? Despite the bread's density, it leaves you feeling remarkably light after a slice—or two! I'll admit, I indulged in two slices (and P.S. you may too).
The recipe below is slightly adapted from Pamela's. I used equal parts potato starch vs tapioca flour because it's what I had at home (get flexible!) and it's often more readily available on Passover. I also added a touch more salt (personal preference).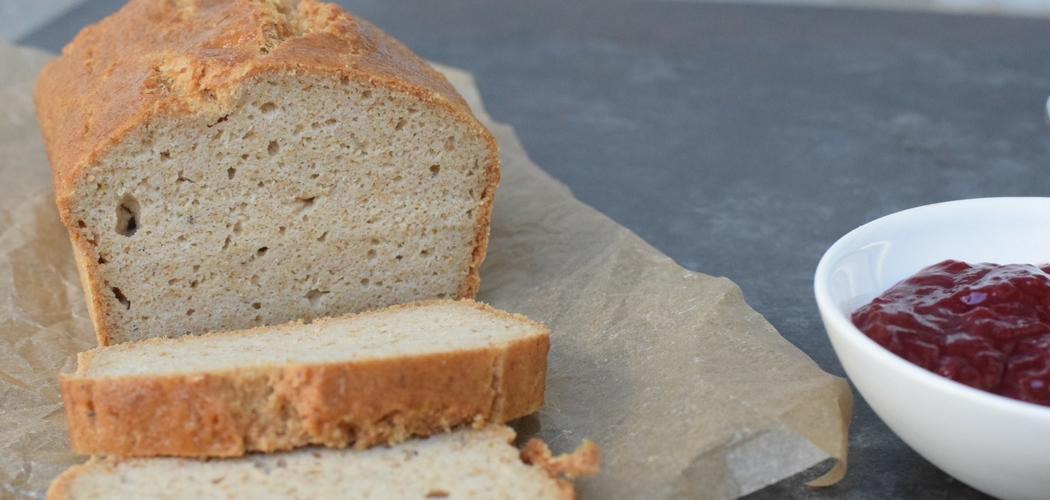 Grain-Free Sandwich Bread Recipe
The Best Grain-Free Sandwich Bread for Passover
Ingredients
Olive oil,

for greasing loaf pans

2 ½

cups

blanched almond flour

¾

cup

potato starch

2

tablespoons

coconut flour

¼

cup

golden flaxseed meal

2

tablespoons

psyllium husk

1

teaspoon

sea salt

¾

teaspoon

baking soda

8

large

egg whites

2

tablespoons

unrefined, cold-pressed extra-virgin olive oil

2

tablespoons

apple cider vinegar

⅔

cup

boiling water

1

large egg,

for topping
Instructions
Preheat oven to 375ºF. Grease desired pans with olive oil and line with parchment paper.

Whisk almond flour, potato starch, coconut flour, flaxmeal, psyllium husk, salt, and baking soda in a bowl until well combined and lump-free.

In the bowl of a stand mixer (or by hand), combine egg whites, olive oil, and apple cider vinegar. Add flour mixture to the egg white mixture and beat on medium-low to combine well. You are not trying to whip the egg whites.

Pour in boiling water and blend on medium-low speed for 1 minute.

Transfer batter to the prepared pan.

Crack egg in a small bowl and brush the tops of loaves.

Bake for 1 hour for large loaf or 40 minutes for small loaves.

Remove from the oven then carefully remove the loaf from the pan. Place the bread loaf back into the oven right on the oven rack. Bake until loaf forms a golden crust, about 10 more minutes.

Cool the bread completely on a cooling rack before slicing.

Store bread at room temperature in an airtight container or wrapped well with plastic wrap for up to 3 days. Or store well-wrapped in the refrigerator for up to one week and freezer for 3 months.
Recipe Notes
Not everyone agrees about flax on Passover so do your research to see if it'll work. Otherwise, you could up the psyllium by a tablespoon or two and add a touch more almond flour instead.
Check Out Pamela